In March 1980, James Eyre, business manager for Bethesda Christian Center church in Monitor went on trial in Chelan County Superior Court. He faced 12 counts of first-degree theft and one count of "unlawful issuance of a bank check," commonly known as "check kiting," back when people wrote checks. 
During the trial, it would be revealed Eyre took money from a Seattle mob boss and he and other Bethesda leaders were running a diamond importing and investment scheme that had ensnared even the Chelan County Sheriff at the time.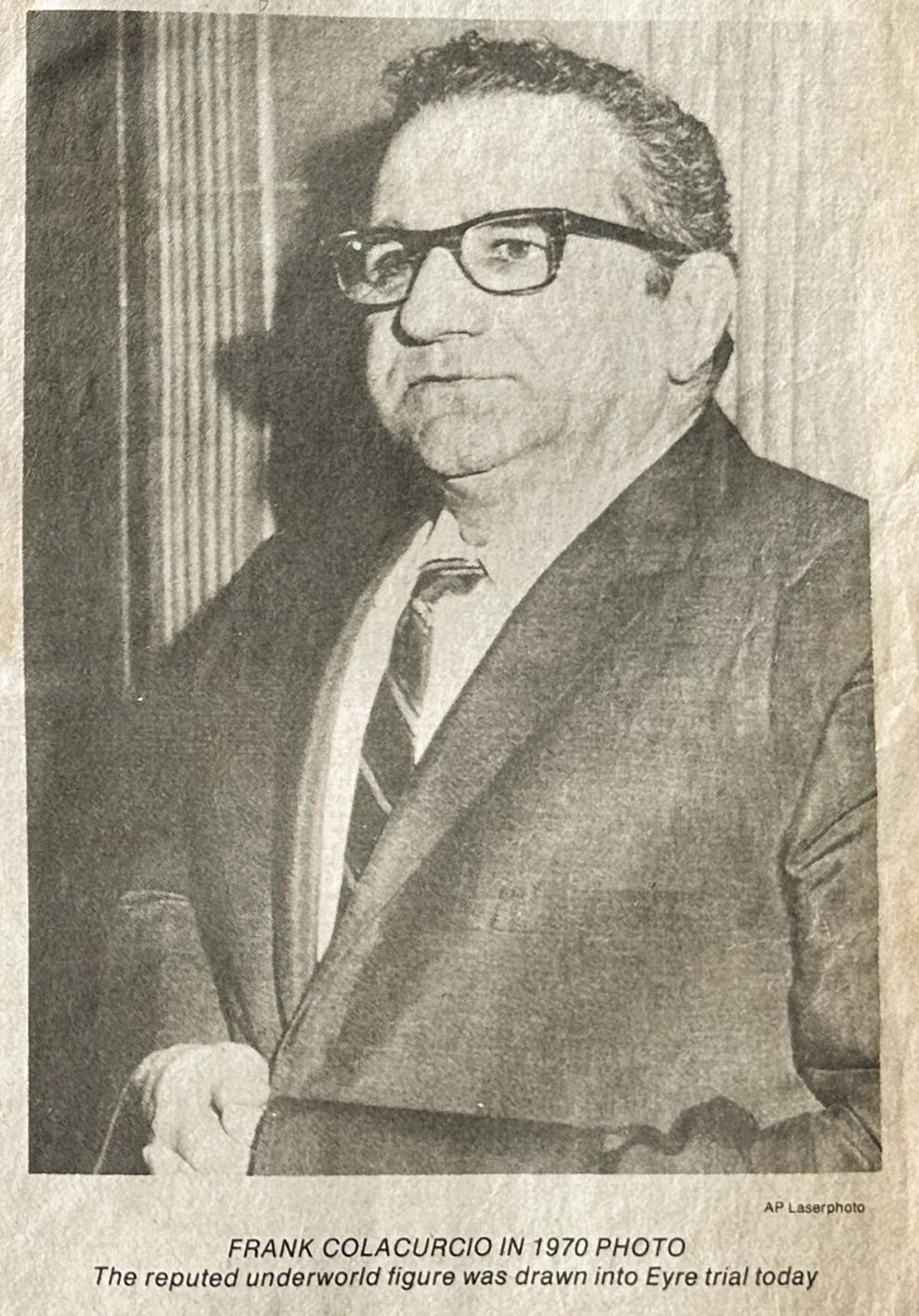 In a statement to media, Sheriff Ray Gross said he "could neither confirm nor deny" he bought any diamonds. But on the stand Sandy Wheeler, a local CPA and Bethesda board member, said Gross had bought two diamonds for a total of $6000. Wheeler said he collected the money from Gross and gave it to Eyre before a trip to Israel, where Eyre had been acquiring the diamonds.
The Chelan County Prosecutor, Richard "Dick" Whitmore, called it "the biggest trial in the county in 100 years."
Prior to Eyre's trial, Bethesda had been the object of much fascination, and derision, across North Central Washington for years. Bethesda members took out mortgages, leveraging homes and family farms to give the money to Bethesda. Titus encouraged members to cash out their retirement funds and give that and anything they were planning on leaving to family "to God" via Bethesda. Meanwhile, Titus and his wife Devi developed a reputation for living a lavish lifestyle that included a fine home, matching Cadillacs, expensive clothes, diamond rings, and international travel all furnished at Bethesda's expense.
Titus had moved from Ohio about 12 years earlier and over the course of a decade, he and Devi transformed the organization into a religious and cultural force in the Pacific Northwest. Bethesda owned a plane, a gas station, a radio station, a bookstore, and four schools, including an unaccredited college. According to The Wenatchee World, Bethesda also had investments in many local businesses aside from those they owned outright. They established a publishing house that put out a glossy international Christian Women's Magazine called "Virtue," which Devi edited. It was billed as the Christian alternative to "Good Housekeeping."
The orchestra and choir were a singular focus of attention and a draw for new members, and speaking in tongues was not uncommon.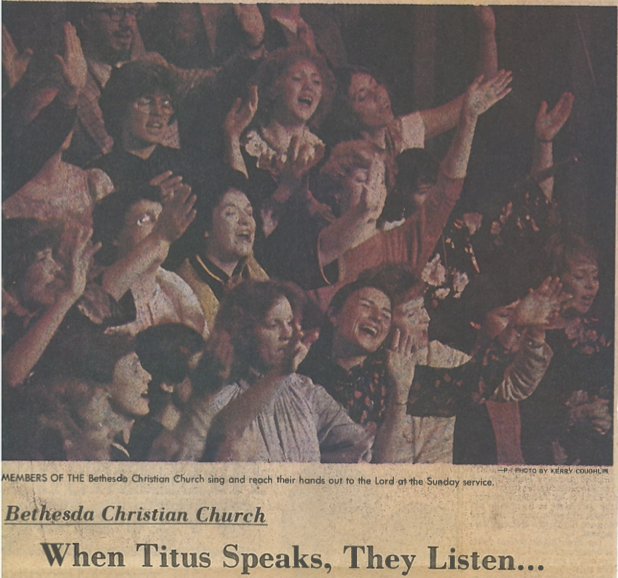 Bethesda spawned affiliated churches in communities across the Northwest. You can read more about the origins and rise of Bethesda here.
So when Eyre went on trial in 1980, a seat in the courtroom was one of the hottest tickets around.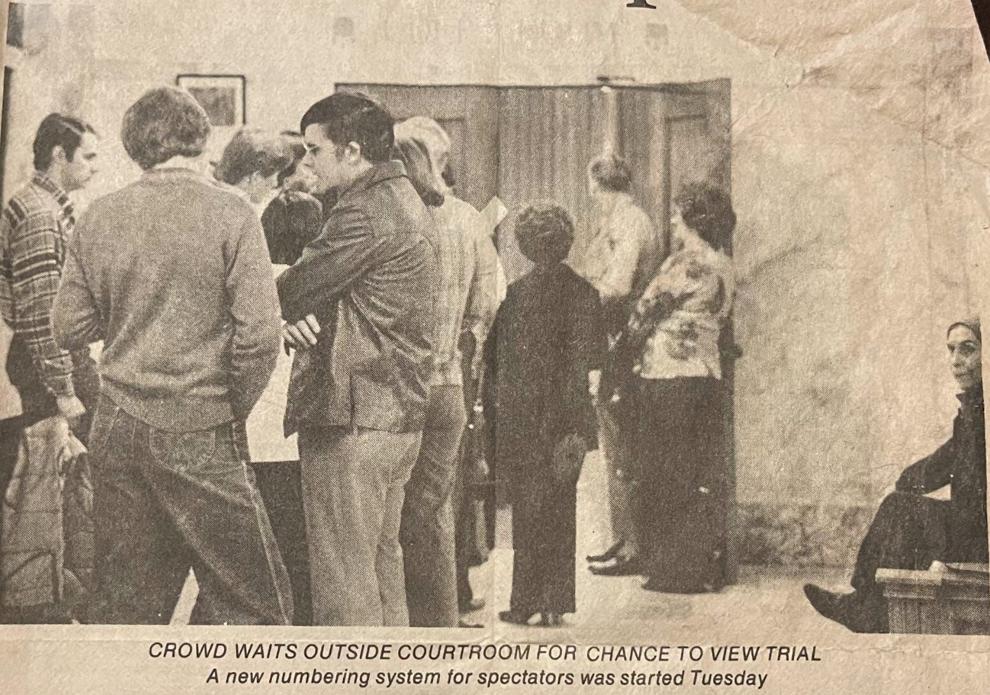 So many folks showed up to watch that the county auditor handed out tickets with numbers outside the courtroom, and only the people with tickets were allowed in.
At the heart of the scandal were Titus and Eyre, laying the blame for the criminal financial mismanagement at each other's feet.
However, it wasn't the first time Eyre faced charges related to financial crimes. He came to Wenatchee in 1973 following a forgery conviction in Soap Lake, where, as a substitute teacher, he was convicted of forging a check from the high school student body's account.
The fact that Eyre had a previous conviction for forgery didn't stop Titus from hiring Eyre as business manager in 1974 though. The knowledge of his conviction didn't seem to have followed Eyre to Wenatchee either. He became known as the son of a steamship heiress and a wealthy inventor, who was raised by a nanny in Galveston, Texas.
By the time of his arrest near the end of 1979, Eyre was at the center of a financial house of cards that can only be described as an elaborate Ponzi scheme in which investments and loans were sought from new investors and lenders in order to pay outstanding debts owed to previous investors and lenders. In the process, quite a lot of the money seemed to have made its way into the pockets of Eyre and Titus.
On the stand, Eyre testified that he did all of it because Titus "was God" to him.
"I felt like Larry's wish was my command," Eyre said. "We robbed Peter to pay Paul. We used funds out of other accounts to do it."
Eyre testified that every financial venture he undertook was at Titus' urging and that at one point Titus even suggested hiring "coverup men" from Atlanta to purchase property for Bethesda in other people's names.
Weeping on the stand, Eyre told the court that Titus' lust for the finer things in life had him constantly coming up with new ways to fund Larry and Devi's lifestyle. When he couldn't come up with the money from loans or new investments, he would front it himself, calling them "involuntary advances."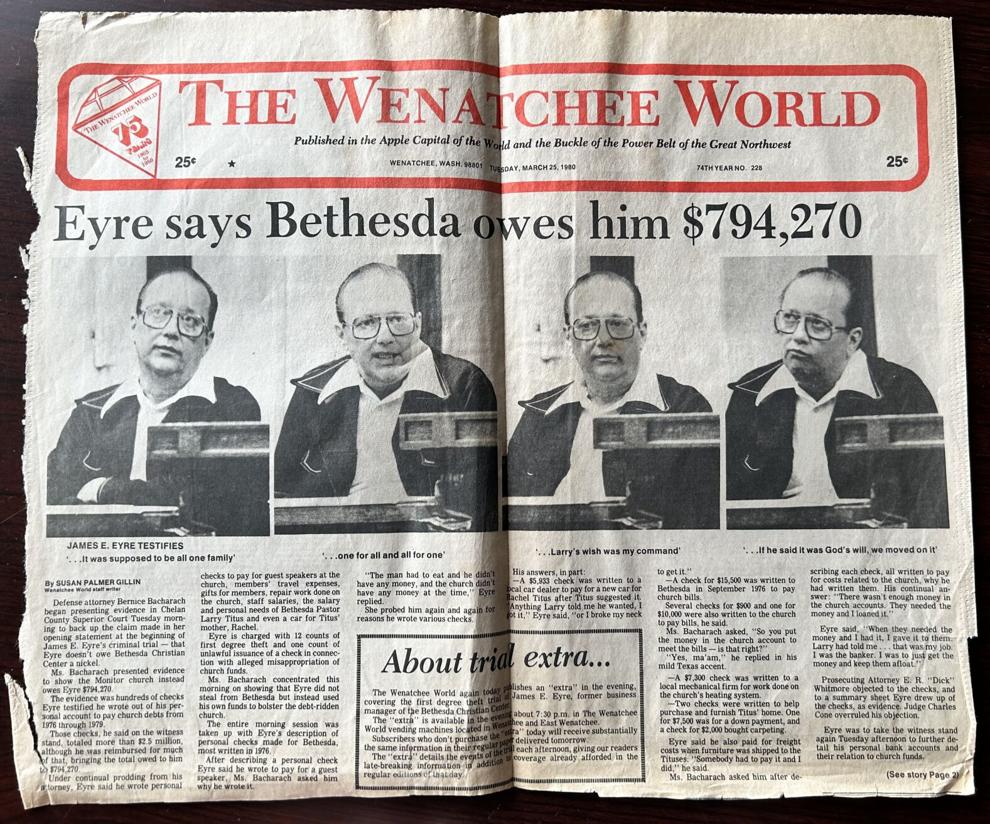 Among other things, Eyre said the funds went to pay for carpet in the nursery of the church, Bethesda staff salaries, church choir travel trips, a new car for Titus' mother, and a diamond ring Eyre said Titus wanted.
According to Eyre, he was basically a slave to Titus – body and soul.
"I love him with all my heart. He would tell me that we had a spiritual marriage," Eyre testified. "We had a perfect balance – he was my head. I was Nehemiah; he was Moses. I would have died for him. I would have jumped off this building if he had asked me to."
Eyre's lawyer Bernice Bacharach, citing bank statements, said in addition to these "involuntary advances," the church owed him $81,845.90 in unpaid salary. The total amount Titus and Bethesda owed Eyre, according to Bacharach, was $876,116.63.
When Titus took the stand he painted a different picture.
He said Eyre would often tuck cash offerings from Bethesda members into his pocket, that he kept church offerings locked in the trunk of his car, and had a near-fetish for crisp $100 bills.
"He said he did not like one-dollar bills," Titus said on the stand. "He liked to pass out hundred dollar bills at every occasion possible. I've never seen him without one."
He testified that Eyre kept the church books under "lock and key" so church elders could not see them. Titus said he had no idea that Eyre's personal funds and church funds were being intermingled until the summer before the trial when he was made aware of what was going on.
When questioned by Bacharach the exchange became "terse," according to the Seattle P-I. P-I Reporter Laura Parker wrote that Titus faltered several times in his testimony and when his answers seemed evasive, Bacharach's questions took on a sarcastic tone.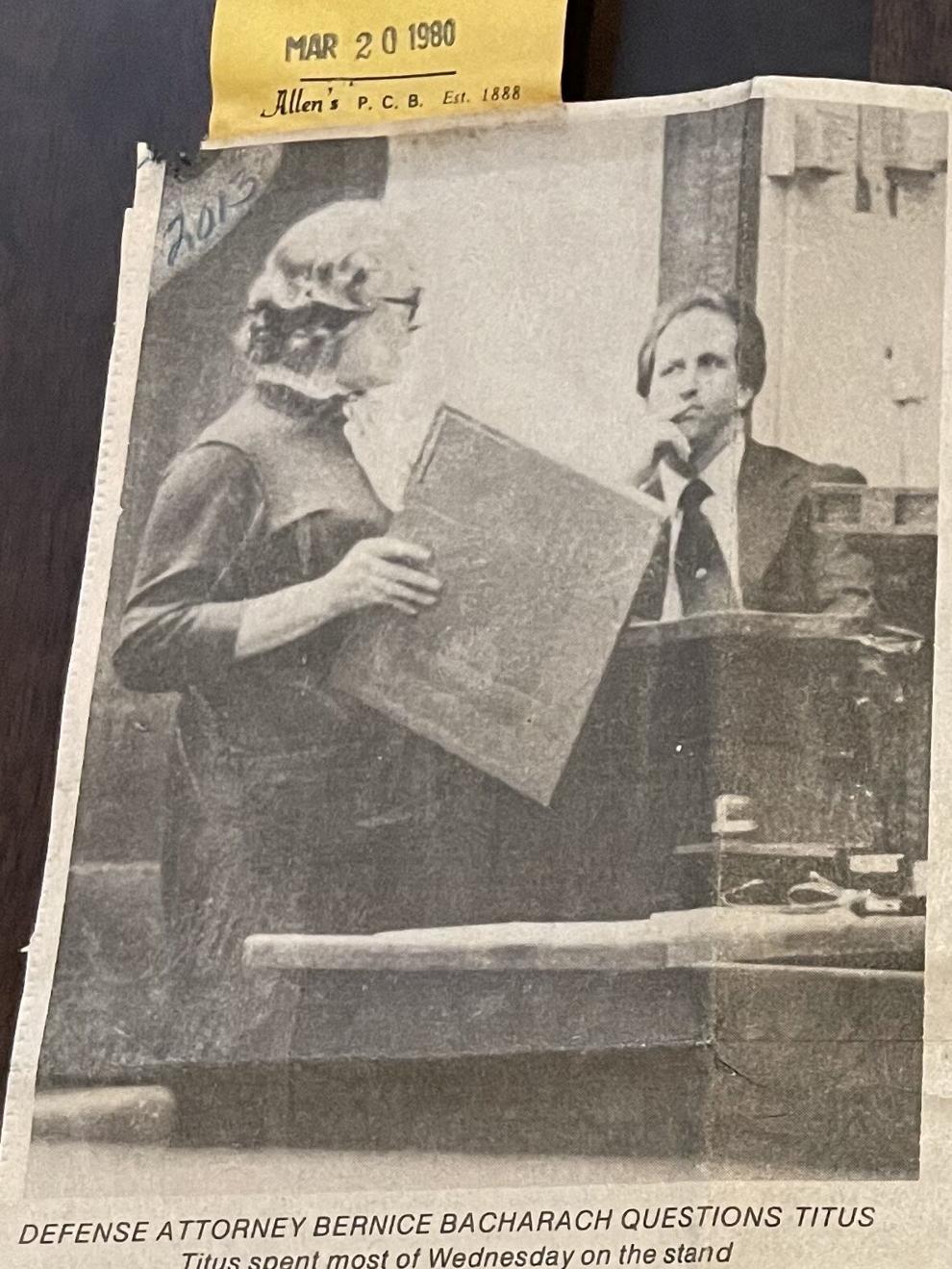 Parker quotes one such exchange over a shopping trip in which Eyre bought Titus new suits at a local department store.
Bacharach: "In other words, you were just a mannikin?"
Titus: "I had the liberty to say which ones I liked and didn't like."
Bacharach: "Are you sure you didn't tell Mr. Eyre you needed the suits?"
Titus: "I wouldn't rule that out as a possibility. But it wasn't like me."
When asked if he knew the funds that paid for trips, cars and clothes were church expenses, Titus said no.
Prosecutor Dick Whitmore got Eyre to provide more details about his own financial history under cross-examination. Eyre said under oath that he moved to Wenatchee in 1973 with a net worth of $40,500, but owed a debt of $50,000 to a friend. He said he paid off that personal loan in 1976 by refinancing his home and taking out loans from Columbia Federal Savings and Loan, Seattle-First National Bank and Wenatchee realtor Ray Click.
According to Bacharach, Bethesda owed Eyre $876,116 by 1979 but Eyre didn't outline how he was able to afford to loan Bethesda the nearly $2 million he said he had given them in "involuntary advances" during that period of time.
He also didn't explain why he had been taking personal loans to give to the church rather than have the church take out loans on its own behalf under the direction of Titus and the board.
Here's an exchange between Prosecutor Whitmore and Eyre, as reported by the AP, after Whitmore asks Titus why he, and not Bethesda, were taking out the loans.
Eyre: "That would have been fine if Bethesda could have obtained credit."
Whitmore: "Is your credit better?"
Eyre: "Yes."
Whitmore: "How did you manage to establish that quality of credit?"
Eyre: "I can't answer that. I don't know."
Whitmore: "How were you able to go from a net worth of minus-$10,000 to the point where your credit was better than Bethesda's?"
Eyre: "I can't answer that. I don't know."
Whitmore reviewed the list of loans Bacharach submitted on behalf of Eyre and compared them to Bethesda's records of withdrawals from church accounts. According to the AP, the comparison revealed a complicated series of transfers that showed a commingling of funds that made it hard to distinguish where Eyre's finances started and Bethesda's ended.
In other testimony that day, Laura Phillips, a teller at Columbia Federal Savings and Loan, testified that Titus accompanied Eyre during transactions involved in the charges.
By March 29, both sides rested their cases and the jury went into deliberation.
The next day the jury announced that Eyre was acquitted of all charges.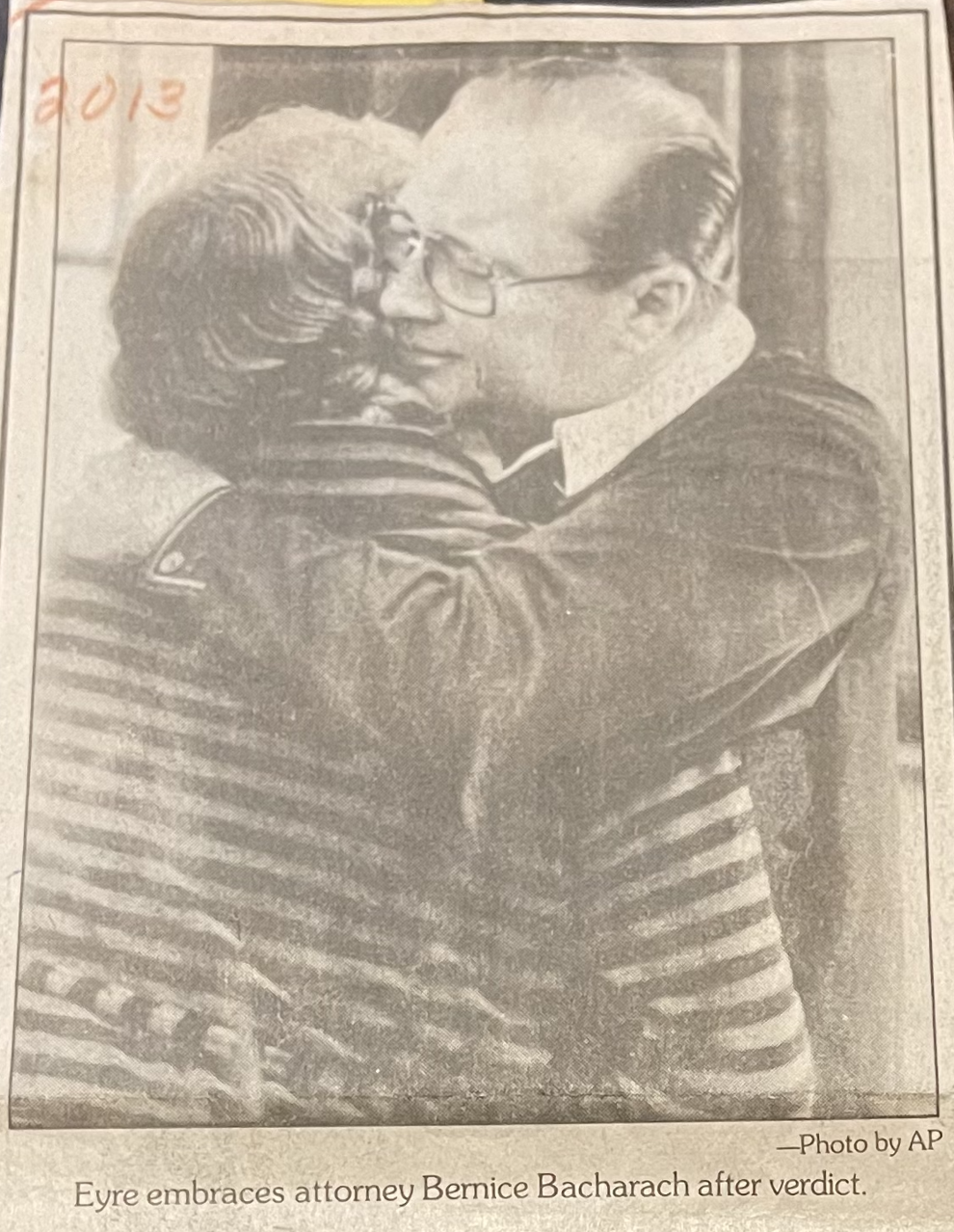 Eyre wept. Bacharach was "delighted" and Whitmore was disappointed. He said the jury had been swayed by Bacharach's argument that Eyre had been used as a "scapegoat" by Titus and church officials.
Afterward, one juror who asked to remain anonymous told the AP that the jury did believe Eyre was a scapegoat.
"None of us felt good about the decision… We were all a little depressed," the juror said. "Our hands were tied by the instructions and the law. The prosecution did not give us enough evidence … to prove beyond a reasonable doubt that he was guilty."
But Eyre wasn't out of the woods yet. He was still in jail on a $1 million dollar bond, and the next day Whitmore filed eight new charges against him, according to a UPI story in the Spokane Chronicle. The charges stemmed from the diamond investment scheme and the victims of these alleged crimes included Bethel Christian Fellowship of Ellensburg and KIAM-FM Radio of Wenatchee.
"I'm shocked," Bacharach said in an AP story. "We've already had a trial about his diamond investments. I objected to inclusion of the diamond investments in this trial, but it was let in. They can't try it again."
Eyre's bond for the second set of charges was set at $5,000. He posted bail later that day and was released ahead of his next trial, which was set for April 21.
To Be Continued, And Where Titus Is Now
For now, this is the right place to leave James Eyre. I'll pick back up on Eyre and tell the rest of his story (as best I can) in the next part of this series.
Before the end of this piece it's important to note that not long after Eyre was acquitted in this trial, Larry and Devi moved out of state. Devi continued to edit Virtue Magazine, one of Bethesda's most successful ventures, for a while. But they sold the publication not long after that. It continued to be published by a company in Oregon until the mid-90s.
In 1981, Larry became senior pastor at Trinity Fellowship in Amarillo, Texas, according to Scott Sailer, a former employee. In 1984 they moved to Camp Hill, Pennsylvania where he became senior pastor at Christ Community Church.
In 1992, Larry and Devi established "Kingdom Global Ministries."
"KMI funds world ministry projects and today maintains vibrant missions relationships in Israel, Honduras, Mexico, China, India, Thailand, Nigeria, Ghana, Kenya, Brazil, West Africa, Philippines, and several nations in Europe," Sailer wrote. "Larry travels regularly to these nations, teaching and ministering in churches, conferences, conventions, and leadership seminars side by side with the pastors and missionaries in partnership with KMI."
According to tax returns, the organization brought in $581,292 in 2017. Larry's compensation that year was $104,463. In 2014, KGM reported $935,005 in total revenue.
They also established a project called "The Mentoring Mansion," which Sailer describes as "a ministry designed for women and directed today restoring the dignity and sanctity of the home." In other words, women paid Devi to learn the finer points of being a Christian homemaker. 
Larry and Devi both authored books that were published in multiple languages. She also kept up a regular international speaking schedule until she became ill. In December 2022, Devi died of cancer.
A Note of Thanks Regarding Research
Thank you to everyone who has provided me with newspaper clippings, radio transcripts, old cassette tapes and boxes of other materials, like back issues of Virtue Magazine. Before I started writing about this, almost nothing about Bethesda's history could be found online. It's important to remember history so we can avoid repeating our mistakes, and there are many lessons to be learned from the Bethesda story. 
One of the major sources of information for this story came in the form of recordings of an old KPQ Radio series called "Take II" with Jeff Smith, who was the first reporter to really start looking into Bethesda.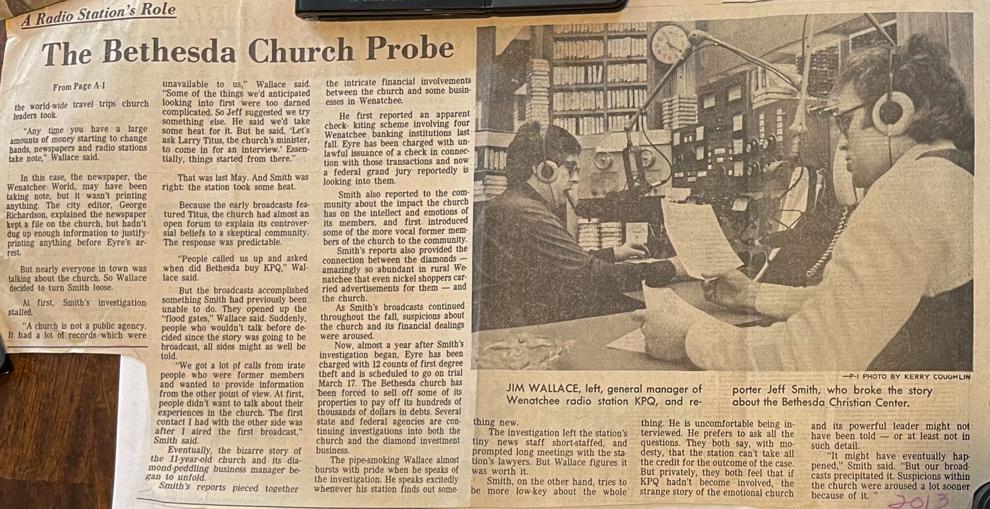 I'll leave you with this clip from that series in which he quotes from the wife an ex-Bethesda member who tried to mortgage their orchard and give the money to Bethesda. Note that Smith remarks about how ex-members were afraid of speaking out due to social and economic backlash. 
It says a lot about Bethesda's power and influence in the Wenatchee Valley at that time.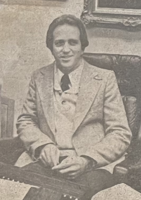 If you want to know who holds power in a community, just look at who you can't question or criticize. 
This is a column by Dominick Bonny. You can read more of his work here.